The Beginning
The Windmill Cafe was built in 1972 in Savage, MN.  Although the ownership of the restaurant has changed hands a few times over the years, it has been in continuous operation and little else has changed aside from a new coat of paint every now and again.  From the start, this has been a stereotypical small-town mom-and-pop kind of diner, and we wouldn't want it any other way.
The general consensus from long-time locals is that a small cafe, really just a short counter with a handful of stools, was inside a nearby gas station beginning sometime in the late 60's and was the start of cafe.  It became very popular and in 1971 construction of the current building was started.  Construction was completed in 1972 and the Windmill Cafe opened for business.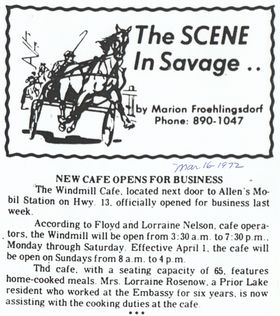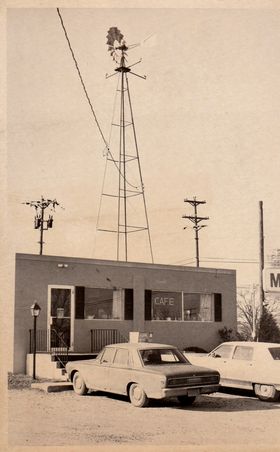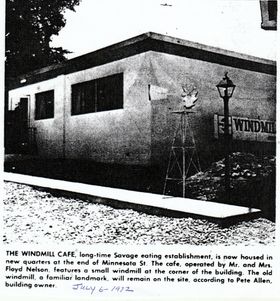 New Ownership January 2020
New owners, Kari and Adam, took over the Windmill Cafe on Januay 1, 2020 from Diane and Denny.  Having know the previous owners for years, we had joked many time over the years of how fun it would be to run that little diner.  When Diane and Denny decided they were ready to retire we looked at each other and said, "Would it really be fun, and if so, could even even make it work?"  After a lot of research and soul-searching, we decided to give it a go and quit our jobs to devote ourselves to this new adventure full time.  Kari started at The Windmill in May of 2019 and Adam started in October of 2019 to be able to get up to speed with everything with the assistance of Diane and Denny (and Mike!).  Although lots of some small things have changed, mostly to improve efficiencies and most of which are behind the scenes, little else has changed or is planning on being changed.
We want to thank everyone who has supported us through this very difficult Covid-19 pandemic.  Certainly a new normal is being formed and even with just partial dining room seating being open, we are amazed and so grateful for for every single person who walks through the door or orders some food to go.  The timing certainly was not ideal, given the fact that we just took over, but we could not have made it through or continue to make it without each of you.  From the bottom of our hearts, thank you for keeping our dreams alive.