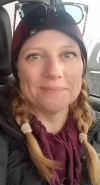 Kari Whetsel
Owner/Jack of All/Master of All

Kari is from a small town in northeast South Dakota, is one of three kids, and has lived in Minnesota since 1996 (she even spent a year living in Alaska!).  Kari has a Bachelors degree from Metropolitan State University in Business/Marketing.  She can do it all, really.  She can cook anything on the menu, she knows how everything should work, and she keeps everything and everyone in line (including Adam).  Kari and Adam were married in 1999 and have two children, Jake and Maddie, who you may often see around the diner.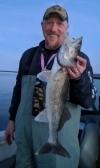 Adam Langfeld
Owner/Jack of All/Master of None

Adam grew up in Blaine, MN, is one of six kids, and worked as an Automation/Electrical Engineer for 20+ years.  He spent a lot of time traveling for work throughout those years, all over the United States and even to Mexico and Singapore.  You'll see Adam working the grill, expediting orders, washing dishes, busing tables, tending the register, and maybe even waiting on a table or two every now and again.  He'll do whatever needs to be done on a given day and is happy to fill in where needed.
Picture Coming Soon (maybe)
Mike Smith
Kitchen Manager/Master of the Grill

Mike has worked at the Windmill for 6 years and is in charge of the back of the house.  He can do it all, but it is especially wonderful to watch him on the grill on a busy weekend.  The amount of food and orders he can keep going and keep track of at one time is amazing. His attention to detail and passion is inspiring. If you like our homemade soups and gravies, make sure and give a nod to Mike.
More to Come
Cooks/Wait Staff/Etc.

We have an amazing group of people that work with us to help keep the customers happy and the food coming out fast, hot, and delicious.